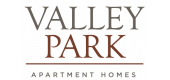 Your Review
Submit a Review

Resident Reviews
|Recommended: YesIt's friendly and quiet — Parking is great
|Recommended: YesIt nice — I would tell them it's a nice place just very costly for so little space
|Recommended: YesGood — It's a good place
|Recommended: YesNice and quiet place — Yea is a good place to live in. I always have parking and everyone is friendly
|Recommended: YesNice expansive property — Well kept grounds, location a plus
|Recommended: YesI love living at Valley Park — Awesome
|Recommended: YesWell maintained. — Nice and quiet.
|Recommended: YesHaven't really had much interaction with the leasing office but have spoke with the maintenance department several times and enjoy doing the renovations
|Recommended: YesValleyPark has made our downsizing transition comfortable and easy. — We like this property very much...the setting is natural, the units are well maintained, and staff are great Our dogs watch the squirrels, as they scamper over the huge old trees and lawns, like they're watching a TV show. We feel lucky to have found our new home to be so quiet, comfortable and enjoyable. Moving from a house to an apartment is stressful, but ValleyPark has done so much to help us manage and adjust. Much appreciated Our only wish is that the hallway carpeting could be replaced ... it looks dirty and is ripped.
|Recommended: YesApartment Review — Overall, the experience at Valley Park was great. The space was great and even though the appliances were a bit out of date they worked properly. The walls were very thin and the neighbors were noisy but it was a great community at valley park.
|Recommended: NoLackluster, but its a place to live — Love the building, love the area and the neighbors i have. However the fixtures are outdated, laundry room looks like a scene from a SAW movie and smells like mold. More spiders than tenants in the building. The floor is carpet over creaky floorboards that make noise even when small cats walk on the floor. The parking is plentiful, but has multiple potholes big enough to fall in. Pool is well maintained but until recent there was no control over who has access to the pool, causing overcrowding during any optimal pool time. Long story short it'll do but i won't be renewing my lease
|Recommended: YesI like it — Peaceful
|Recommended: YesGreat place to live — Great quiet and great community
|Recommended: YesWell Kept Units, Poorly Maintained Shared Spaces — The apartments here are rather good. The unit was extremely fresh well kept and moving in was a snap The parking is very convenient and the lawn always looks gorgeous The staff are very friendly and quick to respond. The kitchen is very modern and really well kept. The pool was also kept really clean and chemically balanced. Unfortunately, the hallways smell deeply of smoke and the neighbors are particularly loud on the weekends. The shared laundry room is disheveled and pretty dirty, and the in-unit machines are small.