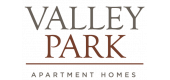 Your Review
Submit a Review

Resident Reviews
|Recommended: YesPretty Good — Overall, living at Valley Park is pretty good. My only complaints are with parking and maintenance. Parking is a struggle. I can't tell you how many times I've had to fight for a parking spot in front of my own building. I don't know if every single unit has multiple people with multiple cars or what. And parking when there's a storm Forget about it. It's absolutely horrendous. Maintenance staff is the absolute worst. I put in a request for something, and they called me back. I called them back. And when they didn't call me back a second time, the canceled the request. And when they did come, the one maintenance worker had the nerve to lecture me for 45 minutes about religion, instead of doing his job. And again, recently I put in request was low priority, and it's been over a month since I placed the request. And I've called them back twice in one week, with no return phone call. Good thing I haven't had any emergencies, because I'm afraid they wouldn't come. I'd probably have more success with calling someone outside of Valley Park.
|Recommended: YesBeautiful, quiet neighborhood — The apartment is spacious and well built. Neighbors are all friendly and helpful. Maintenance comes quickly when there is a problem. The only thing is that the Main office is hard to get a hold of and takes a while to hear back from them.
|Recommended: YesGreat — Great neighborhood I love it. Perfect place for my family and kid
|Recommended: YesComfortable living — Communication will guide you through a more enjoyable experience.
|Recommended: YesNice apartment — nice first apartment, safe, home feeling.
|Recommended: Yes
Can't see the full questikoi n — its nice
Thank you Yvette!
|Recommended: Yes
Great property to live at — Great place to live. Apartments aren't the largest but you are getting some solid quality by living here. Everything you could ever need is no more than a 7-minute drive away. Management and maintenance are professional and friendly.
Thank you Matthew! We enjoy having you as a resident here at Valley Park!
|Recommended: Yes
I like living here. — It a nice place to have an apartment.
Thank you for the great review! We enjoy having you as a resident at Valley Park!
|Recommended: YesThis place is amazing but for what your paying does have a lot of issues — I live on the first floor and I can hear my neighbors upstairs running back and forth and they always take up all the parking so I have to park very far away from my apartment
|Recommended: YesProperty, property location and Property staff is great. — I am a new tenant, As of now there are no complaints. It is a comfortable environment.
|Recommended: YesGood — Do it
|Recommended: YesCommunity — Peaceful and nice.
|Recommended: NoThere's always garbage laying around from the dumpster — There's no soundproofing in these buildings...right now a family moved in above us and we can hear them walking around constantly and there's a child or children which is constantly running, jumping, sounds like they are coming through the ceiling...no common courtesy...loud in the hall ways, doors slamming...it's disgusting. We're here 7 years and always pay our rent on time and this is the crap we have to deal with.
|Recommended: YesWonderful and comfortable — Feels like a community, friendly neighbors, good parking, excellent location